Contact Us
Unwanted Tattoos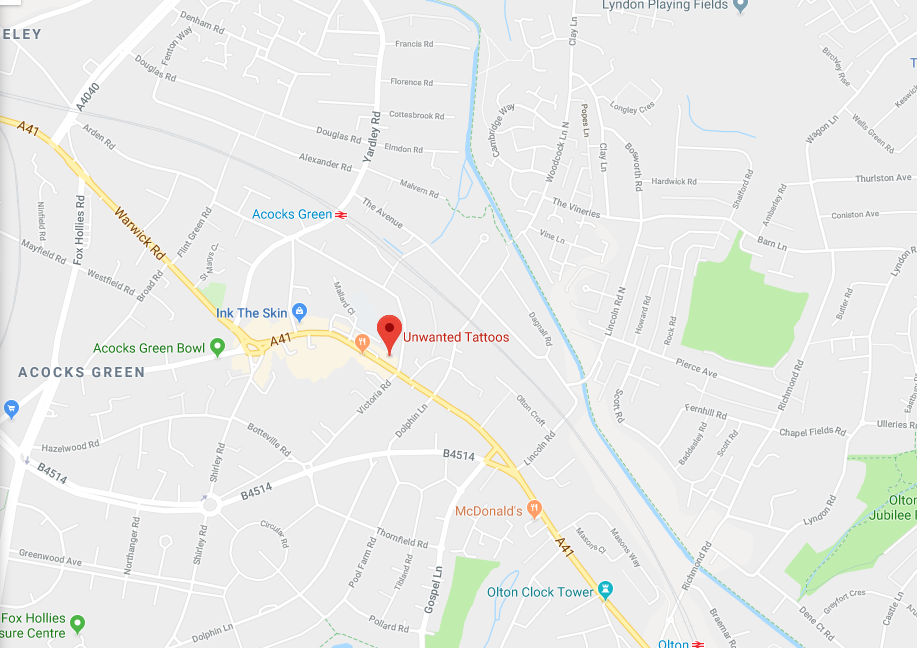 1170 Warwick Rd, Acocks Green, Birmingham B27 6BS
Email: unwantedtattoos@gmail.com
Tel: 0121 708 0914
Call direct on : 0784 632 4617
Buses 11, 4 and 4a, it's a 2 minute walk to the clinic.
Train station is Acocks Green and a 5 minute walk to clinic. 
Travelling by car we are based on the main Warwick Rd parking directly outside. 
Please send your pictures over for a quote to unwantedtattoos@gmail.com or you can send to 07846324617 by WhatsApp or picture message. 
Opening Times
Monday Closed
Tuesday 10am - 5pm
Wednesday 10am - 7pm
Thursday 10am - 5pm
Friday 10am - 4:30pm
Saturday 10am - 3pm
Sunday Closed

Ask A Question
if(isset($_POST["contactc"])) { //$m = "Who are you: " . $_POST["who-are-you"] ."\n\r\n\r"; $m = "Name: " . $_POST["name"] ."\n\r\n\r"; $m .= "Contact Number: " . $_POST["phone"] ."\n\r\n\r"; $m .= "Email: " . $_POST["email"] ."\n\r\n\r"; $m .= "Question: ". $_POST["question"] .""; mail("unwantedtattoos@gmail.com","Unwanted Tattoos",$m,"FROM:Unwanted Tattoos
","-f email"); } ?> if (!isset($_POST["contactc"])) { ?> } else { ?>

Thank you for contacting us . We will get in touch as soon as possible.

} ?>